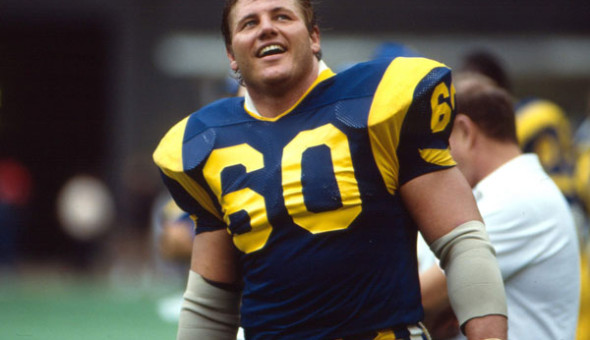 I had the honor of introducing LA Rams standout Dennis Harrah at a recent meeting of our Paso Robles Rotary Club. He came to our annual Cats vs. Hounds luncheon, where we met all the high school football players from Paso Robles and Atascadero before they played in the big rivalry game.
The game did not turn out well for Paso Robles, but Dennis gave a very motivating speech to the crowd. He told the players to "be the man" they want to be. He told them to hit the gym and never give up. He told them to never let an opponent outwork them toward their goals. It was inspirational to everyone there.
Here was my introduction:
Dennis Harrah is a retired NFL Offensive Lineman who played 13 seasons with the LA Rams.
He grew up playing high school football in Charleston, West Virginia. He moved on to play college football for the University of Miami, where he was recently inducted into its hall of fame.
In 1975 he was a first-round draft pick and Joined the LA Rams. He helped the Rams win the NFC West 6 times and the 1979 NFC Championship and Super Bowl XIV in 1980. During his tenure with the team, the Rams led the NFC in Points Scored in 1976, Total Yards Gained in 1980 and Yards Rushing in 1976 and 1980.
Dennis served as team captain for 6 years and played in the Pro Bowl 6 times. He was featured in Sports Illustrated in 1987.
He and his wife Teresa bought a ranch here in Paso Robles 12 years ago where they are enjoying a piece of paradise in his retirement. Teresa is a personal trainer in Paso Robles and opened her own gym, Gotta B Fit at 573 12th St., Paso Robles, CA (805) 712-5166.
And I can tell you from personal experience that he is a darn good racquetball player.
It's a real pleasure for me to introduce him to our club and the local football players.