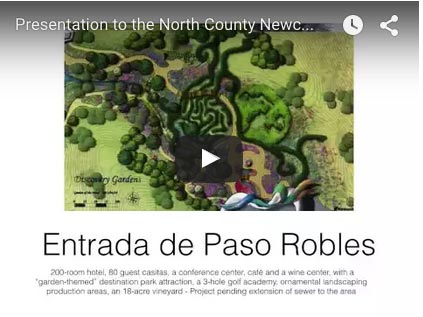 Jay Brown of the North County Newcomers Club invited me to come and speak at the club's meeting on Sept. 2. It was held in the banquet room of the new Tooth and Nail Winery.
I gave the 100+ members a presentation about the many upcoming projects in Paso Robles. I drew my presentation from my experience as the editor and publisher of the Paso Robles Daily News and as a member of the Paso Robles Planning Commission. Paso Robles Development Director Warren Frace provided me updated information to use.
The above video posted to Youtube shows the slideshow presentation.
The group was extremely interested and ask me dozens of questions. I think they were surprised to see so much new development coming to Paso Robles. They were a great crowd and we all had a good time.