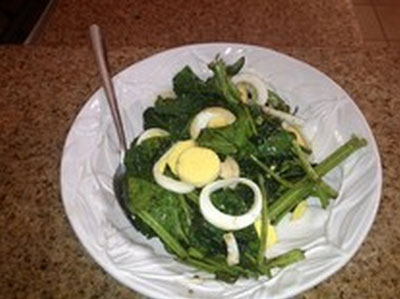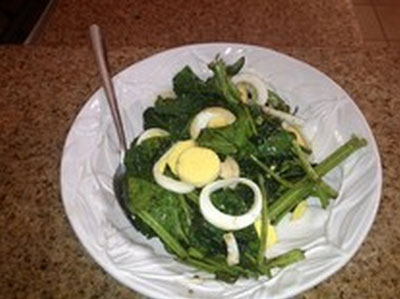 I'm sure you've heard how important it is to start your day with breakfast. New studies are appearing every month on obesity and diabetes being linked to skipping breakfast.
If you are not planning a 24- to 48-hour fast, be sure to eat every morning; and make it protein. Skip the oatmeal, cereal, muffins and sugar.
For today's quick start, I'm eating a spinach and hard boiled egg salad.
I grabbed two heaping handfuls of locally-grown fresh organic spinach leaves and tore them up.
I dressed it with local olive oil, a touch of Italian balsamic vinegar, Celtic sea salt and cracked pepper.
Then, I sliced two hard boiled eggs over the top. The eggs are raised wild on our friends' sprawling back yard where they eat worms, seeds and veggies.
Booyah! It was that simple. It was a five-minute meal that took me longer to write up than make. Yum!
More on fresh local produce in a future post.
I first posted this to my Paleo Lifestyle Blog