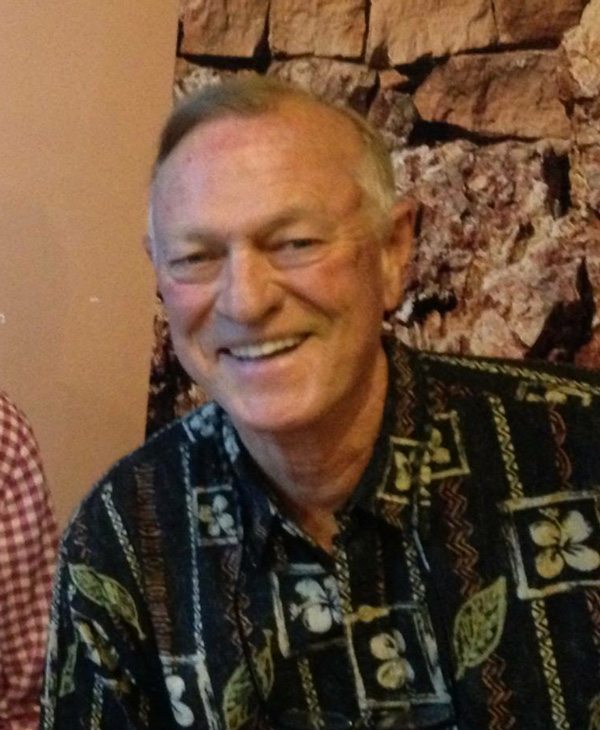 My Uncle Jim Chapel passed away last month. I wanted to take a few minutes to write a tribute and obituary for him. I know he touched the lives of many from his years coaching at Cerritos High School, participation at his church, and being a great dad, grandpa, uncle, and more.
My memories of Uncle Jim began at an early age. We went camping in Cuyamaca near Julien, CA at least once a year as kids. He and my dad taught me how to get up early and go fish on the lake. He was great at telling jokes. We used to watch Disneyland fireworks from his old house in Anaheim, which the adults played Tripoli with pennies, and the kids ran around playing jailbreak. On weekend mornings, we would chase tennis balls around while he played tennis with my dad.
Some of the things I remember best about him were him building birdhouses, playing cribbage, going on fishing trips, tying his own flies for fishing, and playing guitar and banjo.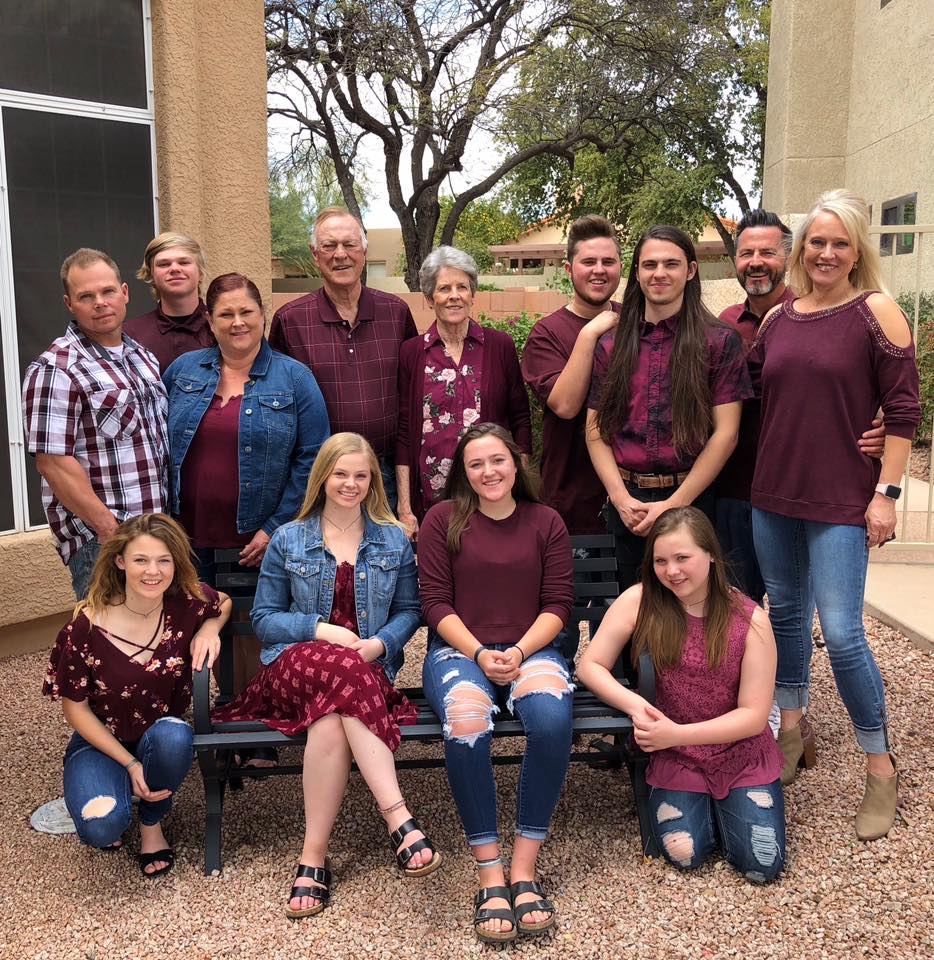 Obituary of James "Jim" Loy Chapel, 1946 – 2018
James "Jim" Loy Chapel of Yorba Linda, Calif. died Saturday, Dec. 8, 2018, at Kaiser Permanente hospital in Anaheim. He passed away surrounded by his loving family. He was 72. The cause of death was an apparent stroke on the Friday morning after Thanksgiving. He had enjoyed the holiday with his extended family.
Jim was born Jan. 7, 1946 in Berlin, Green Lake County, Wisconsin, to Vivian Mildred Burling and Clare Marcy Chapel.
He grew up with sisters Marsha and Kay in Berlin, Wisconsin, and then moved to Gilroy and Watsonville, Calif. where his parents managed a motel. The family also lived in, Tucson, Ariz. for a time before settling in Covina, Calif.
He graduated in 1963 from Northview High School in Covina, Calif. He then attended Mount San Antonio Jr. College for two years. He played on the college basketball team.
He received a basketball scholarship from California State University Fullerton, where he played on the university's Titan Varsity Basketball squad as a guard. He graduated in June of 1968 with a BA in English and began grad school.
While attending CSUF, he met the love of his life, Susan Brennan. They were married, Nov. 18, 1967, at Faith Lutheran Church in Pasadena, Calif. They honeymooned in Pismo Beach and Sequoia Redwoods.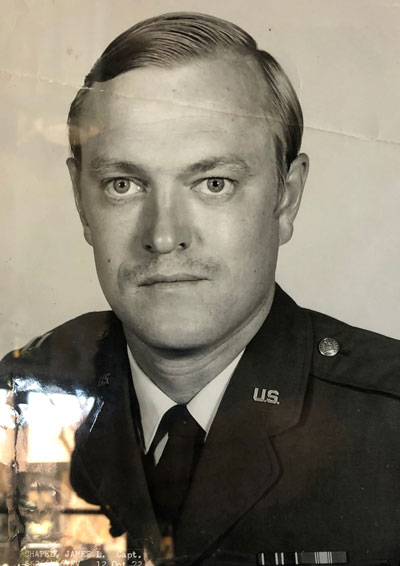 In the fall of 1968, he was drafted into the US military. He took the US Air Force officers qualifying test and was accepted. The Chapels were stationed in Texas, Illinois, and Washington, where Jim was a Maintenance Officer for the 318th Fighter Interceptor Squadron. In 1970, he and Susan welcomed their first daughter Kristin.
Prior to his expected release from the Air Force, a good friend called with the information that there was a teaching position open in Southern California. His Lt. Colonel flew him down in the back seat of a T-33 for the interview, which proved to be the flight of a lifetime for Jim. He accepted the teaching position and began teaching at Cerritos High School in the fall of 1973.
He and Susan welcomed their second daughter, Melissa, in 1973. He received his Master's Degree in School Administration in June of 1978.
He taught English and coached baseball, basketball and tennis at Cerritos for 37 years. He felt blessed to have the opportunity to teach and had a lasting impact, on not only his students but coworkers and parents as well.
He was beloved by his students and athletes. Just before his retirement, he coached the school's boys' doubles tennis team to its first-ever CIF-Southern Section championship victory in 2008. "It was very nice to send Coach Chapel out a champion," said player Pilki Min.
From an early age, Jim admitted he was a sports fanatic. He loved competing by playing basketball, baseball and golf. Through all of his families moves, his involvement in athletics helped him forge many new and lasting friendships.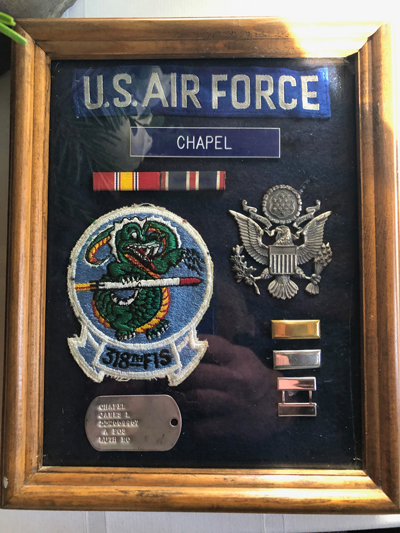 He enjoyed spending time with his children and grandchildren, who affectionately called him "Papa". He had a great sense of humor and loved telling jokes.
In October, he vacationed in Louisville, Kentucky with his wife and daughter Kristin. While there, he bought a Louisville slugger for his grandson Dylan McEvers, a standout high school baseball player.
Jim lived life to the fullest. He was a passionate reader, an avid sports enthusiast, loved camping, fishing, golf and good times with friends. Jim and Susan cherished their trips to Minnesota, Wisconsin, and Arizona.
Jim was also a man with a strong and enduring faith in God. He took great pleasure in participating in church activities at Messiah Lutheran Church in Yorba Linda, Calif., and made it a point to pass on a legacy of faith to his kids, grandkids and those he knew.
He is survived by his wife of 51 years, Susan; daughter Kristin and Jon Petersavage of Tucson, Ariz.; daughter Melissa McEvers of Murrieta, Calif.; grandchildren Ryan, Matthew, Hanah, Riley, and Amada Petersavage of Tucson, Ariz., Sage, Dylan, and Savanna McEvers of Murrieta, Calif.; sister Kay and George Spangler of Chatfield, Minnesota; sister Marsha and Pat Morrow of Wild Rose, Wisc.; brother-in-law David and Donna Brennan; brother-in-law John and Marylin Brennan; and sister-in-law Carol Brennan; and many in-laws, an uncle, nieces, nephews and cousins.
He was preceded in death by his mother Vivian Mildred Burling; father Clare Marcy Chapel.; maternal grandparents Loy Harrison Burling and Agnes Mae Palmer, and paternal grandparents James Mansfield Chapel and Clara Sievert.
A funeral service was held at Messiah Lutheran Church in Yorba Linda, on Saturday, Dec. 15.
Funeral service at Messiah Lutheran Church
At his funeral service, there were remembrances from his friends Wayne Wakamota and Ron Ritchie, brother-in-law George Spangler, and daughter Kristin Petersavage. She read High Flight:
High Flight

Oh! I have slipped the surly bonds of earth,
And danced the skies on laughter-silvered wings;
Sunward I've climbed, and joined the tumbling mirth
Of sun-split clouds, –and done a hundred things
You have not dreamed of –Wheeled and soared and swung
High in the sunlit silence. Hov'ring there
I've chased the shouting wind along, and flung
My eager craft through footless halls of air…
Up, up the long, delirious, burning blue
I've topped the wind-swept heights with easy grace
Where never lark or even eagle flew —
And, while with silent lifting mind I've trod
The high untrespassed sanctity of space,
Put out my hand, and touched the face of God.

By John Gillespie Magee, Jr
Jim's brother-in-law David Brennan, and sister-in-law Carol Brennan read scriptures. Jim's friend and pastor Bob Mooney gave a sermon about Jim. His brother-in-law John Brennan sang the Lord's Prayer.
The crowd of more than 100 attended a reception in the church hall. A couple hours later, close family attended his burial.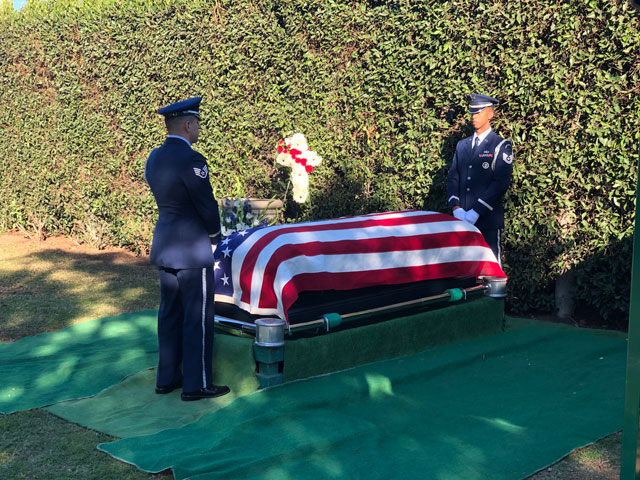 A note from Jim's sister Kay Spangler
Wonderful memories of my brother Jim, and I especially treasure he and wife Susan's trips to Minnesota in the recent past.  During Jim's last visit in late September 2017, while trout fishing with my husband George on the South Branch of the Root River west of our old Preston house, he saw ripples on the water, a trout rising from below.  He was about to cast when a large bald eagle swooped down, flew along the water in front of him, snatched the trout out of the water, and flew up into a tree across the river.  What a delight it was to hear Jim tell the story of his amazing fishing experience.
Source: