The family of Betty Scott asked me to emcee her Celebration of Life this week. It was held Nov. 29 at the Paso Robles Golf Club. The memorial service began at 2 p.m. with 170 friends and family joining in the celebration. As a long-time friend of the family, it was an honor to help remember Betty this way. I'm grateful to the family for asking me to participate. Here are my notes:
---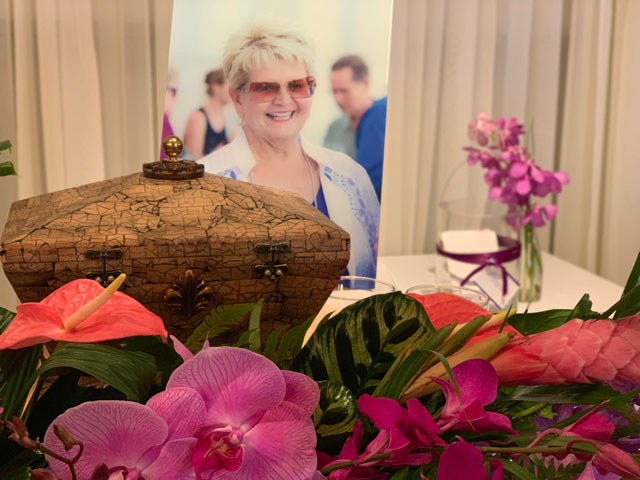 Thank you all for coming. On behalf of Pat Scott and the family, I'd like to welcome you all to the Celebration of Betty Scott's life. Wow, what a beautiful rainy day we have to remember Betty. I hope everyone saw the rainbows around town this afternoon.
For those of you who don't know me, I'm Scott Brennan, and I've been a friend of Betty's son Ron Scott since I was 11 when we joined Boy Scouts Troop 985 in Whittier, Calif.
I would like to begin today's celebration with a short prayer:
---
Adapted from 'Do Not Stand At My Grave And Weep' – by Mary Elizabeth Frye
In those quiet moments in the still of the night
Remember to rejoice and celebrate life
Do not think of me as gone and weep
I am not there, I do not sleep
I am a thousand winds that blow
I am the diamond glints on fresh snow
I am the sunlight on the grain
I am the gentle autumn rain
When you awaken in the morning hush
I am the swift uplifting rush of quiet birds in flight
I am the soft stars that shine through the night
You will hear my gentle voice
and remember to rejoice
Never give up your fight
and remember always
to Celebrate Life

Amen
---
Introduction
We are here today to celebrate the wonderful life of a woman we all love dearly. I thought I would begin by telling you a little about Betty.
Betty was born on Nov. 10, 1944, in Monterey Park, Calif. to Alfred and Louise Clark of Kansas City, Kansas. She was raised with her brother Larry and sister Joanne.
She attended Resurrection Catholic School, Stevenson Junior High, and Garfield High School in Los Angeles. Betty graduated in the Class of 1963. She lettered on her high school drill team.
While in high school, Betty worked for Whittier Distributors, and at Bushnell Typewriter, so she could afford her 1964½ Hi-Po Ford Mustang.
On May 1, 1965, She married her life-long love, "Pat" at The First Methodist Church in Montebello. They raised a family in Whittier with son Ron and daughter Suzi.
Betty worked most of her life in the family business, NC Dynamics. Which she and Pat started in 1979 with partners Randy and Vicky Bazz.
She retired from NC Dynamics in 2010 and the couple retired to Templeton to be close to family and friends and enjoy Lake Nacimiento, the family's long-time summer vacation getaway. Some of you may know Lake Nacimiento is known as the Dragon Lake, so I'm guessing that's where she got her very affectionate nickname. Or is it?
Betty loved to shop and travel. She enjoyed many things throughout her life especially vacations, to Hawaii, Glamis, to the Colorado River, and boating with the family.
Betty's favorite thing, however, was spending time with her family and most importantly supporting her grandchildren.
She passed away Nov. 2 surrounded by her loving family. She died of complications from sepsis. In lieu of flowers or gifts, it would be nice to make a contribution to the Sepsis Alliance. The family created a memorial page for her at justgiving.com/fundraising/bettyscott.
Read Betty Scott's full obituary here

---
My memory of Betty
My earliest memories of Betty were that she always kept a warm and loving home, she was always festive for the holidays, and she filled her home with fun and friends and laughter. She was a wonderful wife and mother.
She was very generous with her time and her resources, a great conversation starter and loved asking me about our children.
She was dedicated to her children and granddaughters.
Whether it was supporting them by traveling and attending Cheer competitions, dance performances, and horse riding classes, or just having them over to hang out at the pool.
My family always enjoyed spending time with her. We enjoyed many times going out wine tasting with her – white wines only, of course.
While Betty is no longer here with us, she will live on through all of our wonderful memories of her; and so today let's share some of those with each other.
---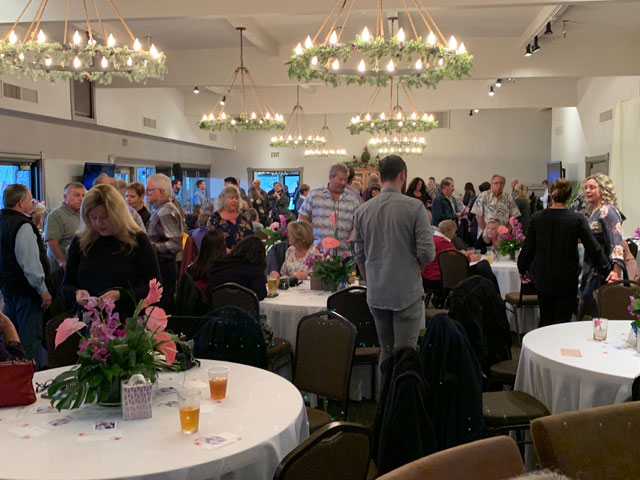 Friends and family remarks
We'd like to begin today with Suzi Scott's friends led by Christy Lawson who will come up to share a few memories of Betty:
Good Afternoon, for those of you that don't know me, my name is Christy Lawson. I am a longtime friend of Suzi's, as well as the rest of the Scott family. When I was in high school, the Scott residence became my home away from home. Well it was my home more than my own.

Betty became my second mother, she welcomed myself as well as all of us girls…. Lema, Lisa, Renee, Sarwat and Erika into the Scott home. We always felt Loved and cherished by Betty and Lyle. Betty always made sure we were ALL doing our best in school and in our teenage life.

I can remember many times when we wouldn't get up in the morning and here came Betty with her squirt bottle squirting us all in the face and yelling "GIRLS YOUR GOING TO BE LATE!" She usually had to do this multiple times before we finally would get up! I also remember Suzi and I talking her into firing her cleaning lady, Pam. We told her Pam sucks and we can do a WAY better job! She told us to prove it to her. Well we did! And that was the end of Pam.

Betty was always our biggest supporter. We will all miss the incredible, inspiring, loving woman that Betty was, she will never be forgotten and will always hold a very special place in my heart.

I would like to share a poem:

Forever In Your Heart
Feel no guilt in laughter
She knows how much you care
Feel no sorrow in a smile
That she's not here to share
You cannot grieve forever
She would not want you to
She'd hope that you would carry on
The way you always do
So talk about the good times
And the ways you showed you cared
The days you spent together
All the happiness you shared
Let memories surround you
A word someone might say
Will suddenly recapture
A time, an hour, a day
That brings her back as clearly
As though she still was here
And feels you with the feelings
That say she always near
For if you keep those moments
You will never be apart
And they will forever be
Safely locked within your heart.
Now I'd like to introduce Ron's close friend Geoff Price and Ron's friends for some memories of Betty:
---
Remarks by Geoff Price
In case you missed it last week, a plume of white smoke was released from Lazer Star world headquarters signifying that I was chosen spokesman for Ron's crew.

In all seriousness, I was quite honored that Ron and Ryan asked me to share some memories of Betty on behalf of Ron's crew.

I met Ron through Scouting in the summer of 1982, and shortly thereafter Pat and Betty. It wasn't too long after that I was invited to travel with the Scotts making my first trip to Glamis with them in 1986.

Many in this group had the privilege of accompanying Ron and his family to the dunes, and to the river and to the lake; and I believe it was on these trips where we all got to know Betty.

So, in other words, we were in very short order made keenly aware that she was a no B.S. lady that didn't mince words when it came to telling you how she thought things should be.

I am reminded how especially true that was when it came to how she wanted her hamburgers cooked. For reasons that to this day remain inexplicable I was assigned grill duty whenever we went to the dunes; and on more than one occasion I was marched back to the grill with Bettys burger in tow to give it a thorough leathering.

I'm not going to say Betty liked her burgers and steaks well done but let's just say that once cooked to her liking, it bore more resemblance to the charcoal than red meat; but I digress.

We were a fairly well-behaved lot, this group, and most of the time Betty could express her disapproval for our various shenanigans with her trademark prickly stare.

But that isn't to say there wasn't a stiletto-sharp tongue to go along with "the look"; I recall the first time Betty decided she needed to give me a piece of her mind; it wasn't mean, there was no name calling but once she had said her piece I knew, in no uncertain terms, that I needed to correct the error of my ways.

And while I don't recall my exact transgression, I distinctly remember Ron confiding in me later that I had just been officially introduced to the realm of Dragon Lady. And while this scary name may have origins that are less than affectionate in origins, the title evolved (to those on the inside) into a genuine term of endearment.

In all reality, it wasn't tough to figure Betty out and I quickly learned to navigate the occasionally rough waters of the Scott household.

Over the years I grew to know that Betty was, in fact, a big softie; but that was me but my significant others were a different story. To a person, they were terrified of Betty. Whether it was DL stories overheard or the infamous "look" betty struck fear into the heart of them all. At last years RnR Christmas party Betty was there, seated on the couch holding court when Brenda pulls me aside and says, "I really don't think Betty likes me."

This caught me off guard, but based on my years of Betty experience I assured her that was not the case and that she had only to go sit down and strike up a conversation. I said compliment her hair and ask about the granddaughters. Within seconds it was all good and an hour later they were still talking. Brenda found out in very short order Betty was nobody to be scared of.

I think there are those, few that they may be, that met Betty and couldn't reconcile her brutal honesty or her chilly gaze and they never bothered to get to know her, but in my opinion that was their loss.

They missed the true essence of who she was. In my case, I only knew Betty to be a loving mother & grandmother, a devoted wife, and a genuinely kind soul.

I know Betty would not approve of all this sappy stuff so I'll wrap it up with this: I grew up in the Scott household. Hell, I probably spent more of my teens and early twenties at their house than my own. Whether they knew it or not, Pat and Betty were my other parents.

On Thanksgiving last week I called Pat because I needed to be sure he knew that on that day I was genuinely thankful that I had great fortune to have Pat and Betty in my life.
---
Friends and family remarks continued
• Memories of Betty Scott by Randy Bazz and the crew from NC Dynamics. He thanked Betty for her tireless work keeping the company in positive cash flow through the early years and contributing to the company's success.
• Memories of Betty Scott by Marcia Jacinto. She shared memories of camping and vacations and noted that she and her husband and Pat and Betty would be on vacation in Hawaii at this very moment.
• Memories of Betty Scott by her older brother Larry Clark. He talked about the challenging early years that he and Betty and Joanne faced growing up in Monterey Park, Calif., after their parents' divorce.
---
General remarks to the attendees
• There will be food served at 4 pm and we are all hoping it's up to Betty's standards so she doesn't have to come back and have a word with the staff
• There are memory cards on the table. Please write down a memory of Betty. The cards will be collected and placed in a binder for Pat and the family to read.
• Betty loved poinsettias and the Scott family brought several dozen for every family in attendance to take home with them today.
• One final thought I'd like to share before Ryan starts his presentation, I'd like to share a poem:
---
The Dash by Linda Ellis
I read of a man who stood to speak at a funeral of a friend. He referred to the dates on the tombstone from the beginning… to the end.

He noted that first came the date of birth and spoke of the following date with tears, but he said what mattered most of all was the dash between those years. (For Betty, 1944–dash–2018)

For that dash represents all the time they spent alive on earth and now only those who loved them know what that little line is worth.

For it matters not, how much we own, the cars… the house… the cash. What matters is how we live and love and how we spend our dash.

So think about this long and hard; are there things you'd like to change? For you never know how much time is left that still can be rearranged.

To be less quick to anger and show appreciation more and love the people in our lives like we've never loved before.

If we treat each other with respect and more often wear a smile… remembering that this special dash might only last a little while.

So when your eulogy is being read, with your life's actions to rehash, would you be proud of the things they say about how you lived your dash?

Thank you all for sharing your wonderful memories of Betty and her well-lived dash.
---
Ryan Paine comments and slideshow
And now I would like to introduce Pat and Betty's son-law Ryan Paine for a presentation: