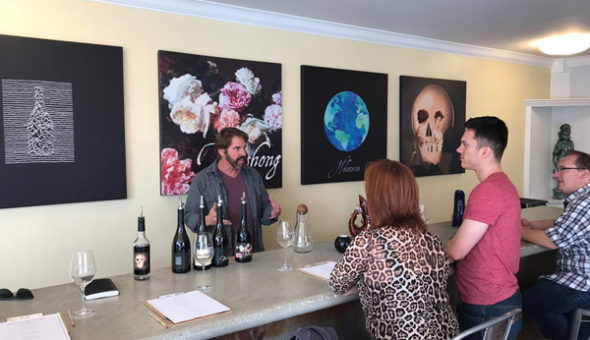 One of our readers recently sent me a note asking for recommendations of boutique wineries in Paso Robles.
"Dear Mr. Brennan,

"My wife and I will be in Paso Robles in early February for three days to visit wineries, with a special interest in boutique ones. We are overwhelmed by the choice and would like to ask if you, or someone on your staff or you know, would have perhaps five to ten recommendations.  Your suggestions would be very much appreciated.

Thank you,

Bob G."
While I haven't visited every winery in the Paso Robles AVA, I've have visited more than 100 wine tasting rooms, so thought I would share a few of my favorites for Bob's next wine tasting adventure. My list runs a little longer than 10 because I enjoy so many of the smaller production wineries.
Favorite Paso Robles boutique wineries
More boutique wineries to visit
Arroyo Robles, for downtown experience
Brecon Winery, for a westside estate
Bodega de Edgar, to meet an amazing winemaker
Asuncion Ridge, for great music
Clautiere, for a wild time
Derby, for a historic flair
Dunning Vineyards, for a great zinfandel
Four Lanterns Winery
Glunz Family Winery
Lago Giuseppe Winery, for a beautiful setting
Mystic Hills Vineyard, for bold red blends
Pelletiere Estate, for Italian-style wines
Ranchero Cellars, at Paso Underground
Rio Seco Winery
River Star Vineyards
Rocky Creek Cellars
Sarzotti Vineyard & Winery
Vines on the Marycrest, for modern architecture
Whalebone Winery, for amazing cabernet
Windward Vineyard, for great pinot noir
If you are a boutique winemaker and I missed you on this list of the best boutique wineries in Paso Robles, send me an invitation to taste with you, or drop off a few bottles of wine at our office: Access Publishing, 806 9th Street, Ste. 2D, Paso Robles, CA 93446.