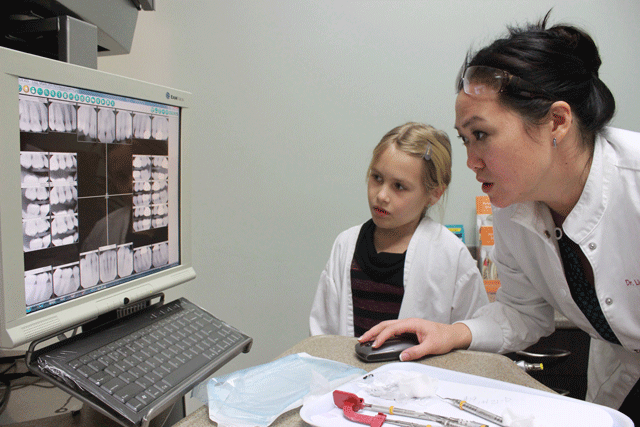 Dr. Lisa Lu Davis, DMD gives Christine Brennan a glimpse at being a dentist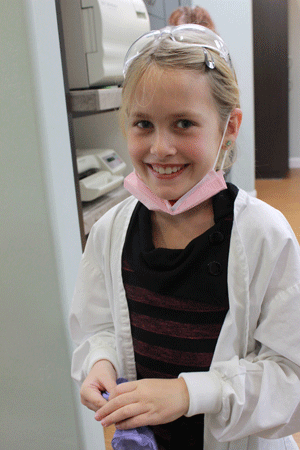 Georgia Brown Elementary School fourth-grader Christine Brennan spent the first day of winter break shadowing Dr. Lisa Lu Davis, DMD in her Paso Robles dental practice. The 9-year-old is the daughter of Scott and Beth Brennan, owners of Access Publishing and the Paso Robles Daily News.
Christine said she wants to be a dentist because she wants to help people. She said she wanted to shadow Dr. Davis "because I wanted to see how they work because I want to be a dentist when I grow up." She said that it was fun spending the morning with Dr. Davis.
The first thing that Davis had Christine do is stow her purse and jacket in a cubby in the staff room and don a white lab coat, and later a mask, gloves and protective glasses. Dr. Davis showed her how to pinch the mask over her nose and then put the glasses over the mask to keep it in place. The trick, Dr. Davis said, just saved Christine a year because it took Dr. Davis herself a year to figure it out.
Next, Dr. Davis greeted her staff and patients. So close to Christmas, she gave many of her patients hugs, something she said doesn't happen so often at other times of the year. Patients brought homemade lasagna, cookies and other goodies for the dentist and her staff. Christine got to take part in the goodies too.
In what the dentist said is a pretty usual day, Dr. Davis spent the first hour of the day doing a regular checkup, putting in a crown on a patient and then putting in two crowns on a patient who recently had a root canal. One of the crowns did not fit, so Dr. Davis and her assistant took a new mold so another crown could be made.
"It was a good experience," Dr. Davis said of Christine shadowing her. "It's good to know that the things I do will continue with young hearts. She added that dentistry is a great profession, especially for women because they can set their own hours, contribute to the world by helping people and still have time for a family life.
The office of Dr. Lisa Lu Davis, DMD Inc. is located at 2120 Golden Hill Road, Paso Robles, CA 93446, (805) 238-6777. It is a full-service general dental practice utilizing the latest technologies in a relaxing and professional environment. In addition to general dentistry, the practice offers implant restoration, Six Month Smiles, root canals and more.