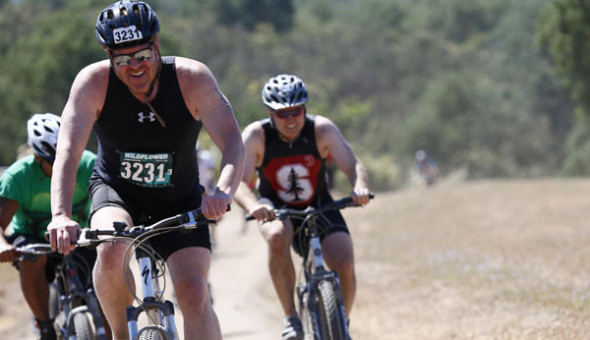 Triathlons changed my life. Five years ago I weighed 280 pounds. I had a BMI of 36, which classified me as severely obese. I was ready for a change. I spent a few months working up to my first 5k run. I set my next target as a sprint triathlon. Over a year of training for it, I lost 70 pounds and completely changed the way I lived. Today, I strive to eat well and exercise every day.
So when the folks at Tri-California, who run the Wildflower Triathlon, offered me a ticket to race this year and I jumped at the chance.
The Wildflower Triathlon celebrated its 33rd year this month at Lake San Antonio. It was my 10th triathlon. I did the sprint race, which is 1/4-mile swim, and 8.5-mile off road mountain bike ride and a 2-mile run. It's easy enough to be an entry-level race for anyone who wants to set a fitness goal. If you are feel a little more athletic, than you can race in the Olympic Triathlon (.93-mile swim, 24.8-mile bike, 6.2-mile run) or the Long Course (1.2-mile swim, 56-mile bike, 13.1-mile run), which is half of the Ironman distance.
I finished my race in 1:29, which put me at 117 out of 267 racers. Competitors ranged in age from 9-to-80-years-old. For all the race results, visit tricalifornia.com.
Racing in the Wildflower is an exhilarating experience. It makes you feel alive to push yourself to your limits and see what you can accomplish with your body. There is a spirit of brother and sisterhood when racing side-by-side with hundreds of people working to achieve their fitness goals.
The water at Harris Creek was pleasantly full and clean. The new mountain bike course was thrilling. It is bit shorter, but more difficult than the old course because more of it is off road. The two-mile run is a short and sweet ending to the race.
I'm grateful to the organizers at Tri-California for another amazing race and I look forward to a new fitness goal for the year: The Scott Tinley Olympic Triathlon at Lake Lopez in October.
See related post: "How I lost 75 lbs. in 12 months"