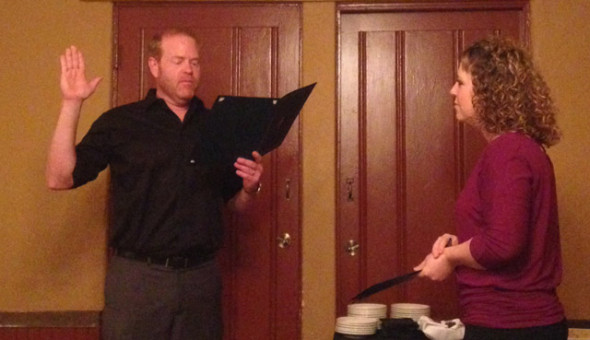 I had the privilege of being sworn in as a Paso Robles Planning Commission member on Sunday night, March 1, 2015. The ceremony was at the Paso Robles Inn during the commission's annual dinner. I was sworn in as a new member with Tom Burgett. Things are moving quickly. I was interviewed for the position by the Paso Robles City Council on Feb. 19.
Here is the story from the Paso Robles Daily News:
City council appoints two new planning commissioners
The Paso Robles City Council appointed two new planning commissioners on Tuesday evening. Scott Brennan and Thomas Burgett were selected for the commission after the council interviewed nine candidates for two open positions. Brennan and Burgett will be sworn in on March 5 and will join five others commission: Chairman Doug Barth, Vince Vanderlip, Darrel Cooper, John Donaldson and Bob Rollins. The two vacancies were created by commissioner Steve Gregory being appointed to city council in December and Al Garcia's retirement from the commission this month.
Brennan is the CEO of Access Publishing in Paso Robles and publisher of the Paso Robles Daily News. He lives with his wife Beth and two children, Christine and William, in Paso Robles. Burgett is the CEO of RLS Industries of Bakersfield, owner of Creekside Bed and Breakfast in Paso Robles, and a major in the US Marine Corps Reserve. He and his wife Amy have a daughter.
The planning commission consists of seven members. The commission meets the 2nd and 4th Tuesday of each month at 7:30 p.m. in the City Hall Conference Center.
The commission is responsible for approving, conditionally approving, or denying parcel maps, subdivisions, conditional use permits, zone variances, planned developments, and site plans. The commission also has a specific role in the formation of redevelopment project area. Further, the planning commission can make recommendations to the city council on legislative matters and the acquisition and disposition of property by the city.