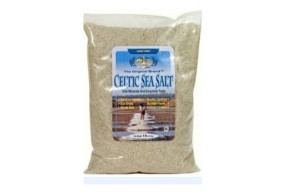 Ever wonder if everything you thought you knew about health is wrong? It looks like the conventional wisdom against salt could be wrong. Which is good for salt lovers like me.
I discovered Celtic Sea Salt last year and enjoy it's large crunchy grains every day.
The producers say it helps to replenish the body's electrolytes, provides renewed energy, provides resistance to infections, and supplies all 82 vital trace minerals.
I just love the taste, crunch and gourmet look of this natural grey salt.
Selina Naturally – Celtic Sea Salt Bag Light Grey Course – 5 lb.
Sea Salt)
NY Times story: A new study found that low-salt diets increase the risk of death from heart attacks and strokes and do not prevent high blood pressure.
It included 3,681 middle-aged Europeans who did not have high blood pressure or cardiovascular disease and followed them for an average of 7.9 years.
The researchers assessed the participants' sodium consumption at the study's start and at its conclusion by measuring the amount of sodium excreted in urine over a 24-hour period. All the sodium that is consumed is excreted in urine within a day, so this method is the most precise way to determine sodium consumption.
The investigators found that the less salt people ate, the more likely they were to die of heart disease — 50 people in the lowest third of salt consumption (2.5 grams of sodium per day) died during the study as compared with 24 in the medium group (3.9 grams of sodium per day) and 10 in the highest salt consumption group (6.0 grams of sodium per day). And while those eating the most salt had, on average, a slight increase in systolic blood pressure — a 1.71-millimeter increase in pressure for each 2.5-gram increase in sodium per day — they were no more likely to develop hypertension.
"If the goal is to prevent hypertension" with lower sodium consumption, said the lead author, Dr. Jan A. Staessen, a professor of medicine at the University of Leuven, in Belgium, "this study shows it does not work."
Dr. Michael Alderman, a blood pressure researcher at Albert Einstein College of Medicine and editor of the American Journal of Hypertension, said medical literature on salt and health effects was inconsistent. But, Dr. Alderman said, the new study is not the only one to find adverse effects of low-sodium diets. His own study, with people who had high blood pressure, found that those who ate the least salt were most likely to die.
Lowering salt consumption, Dr. Alderman said, has consequences beyond blood pressure. It also, for example, increases insulin resistance, which can increase the risk of heart disease.
– Posted using BlogPress from my iPhone